December 15, 2017

Drummer Dave Clark of the Dave Clark 5 is 75 and still smiling — but no longer drumming.
Drummer Carmine Appice, who most notably performed with Vanilla Fudge as well as Beck, Bogert, Appice and Rod Stewart, is 72 and still smiling AND drumming.
Paul Simonon, bassist with The Clash, is 62.

On this day in 1962, bassist Bill Wyman made his live debut with The Rolling Stones at Putney's Church Hall in London.
On this day in 1966, The Beatles recorded the trumpets and cellos for "Strawberry Fields Forever" at Abbey Road studios.
On this day in 1969, John Lennon and Yoko Ono and their Plastic Ono Band — including special guests Eric Clapton, Keith Moon and George Harrison — performed at a benefit for UNICEF at London's Lyceum Theater.
On this day in 1970, George Harrison's "All Things Must Pass" album was released. It eventually sold over six million copies while spending seven weeks at #1.
On this day in 1971, the first of The Rolling Stones' "Hot Rocks" compilations was released. After peaking at #4 on the charts, it went on to sell over 12 million copies — more than all the previous Stones albums combined.
On this day in 1973, Ringo Starr's cover of Johnny Burnette's "Sixteen" began its run up the singles charts to #1. At the time, no one knew that fellow former Beatle Paul McCartney contributed the "kazoo-sounding" solo vocal.
On this day in 1973, near the top of their game, Emerson, Lake & Palmer's fourth album, "Brain Salad Surgery," entered the charts on its way to #11 as the young Genesis made their first (albeit brief) appearance on the U.S. charts with their fourth album, "Selling England By The Pound." It's doubtful ELP even noticed their challengers for the Progressive Rock crown.
On this day in 1979, Fleetwood Mac's song "Sara" entered the charts on its way to #7 as "Take The Long Way Home" by Supertramp peaked at #10 and John Cougar Mellencamp's "I Need A Lover" topped out at #28.
On this day in 1979, Pink Floyd's double album masterpiece, "The Wall," entered the U.S. charts. No one had any idea it would eventually spend 15 weeks at #1 and sell over 23 million copies — not even the band.
On this day in 1984, "Pride (In The Name Of Love)" by U2 peaked at #33 on the singles charts.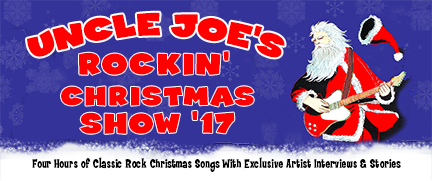 This weekend OFF THE RECORD with Joe Benson will feature the music of Cheap Trick — including their new album "Christmas Christmas" — and Joe's brand new conversation with guitarist Rick Nielsen. Check out this preview!

Rock & Roll Hall Of Fame
The Rock & Roll Hall Of Fame Class of 2018 is set! The 33rd annual induction ceremony on April 14th will honor Bon Jovi, The Cars, Dire Straits, the long overdue Moody Blues and Nina Simone in the Performer Category. In addition, Rock & Roll pioneer Sister Rosetta Tharpe will be inducted with the Award for Early Influence. Bon Jovi, The Moody Blues, Dire Straits and The Cars — in that order — were the Top 4 vote-getters in the Hall's fan poll. And, with the exception of Dire Straits frontman Mark Knopfler, all of the surviving artists will perform.

It was Blaise Pascal who said: "The sole cause of man's unhappiness is that he does not know how to stay quietly in his room."
It was Frida Kahlo who said: "Take a lover who looks at you like maybe you are magic."
It was Alfred Hitchcock who said: "The length of a film should be directly related to the endurance of the human bladder."
Though often credited to Audrey Hepburn, it was Sam Levenson who said: "As you grow older, you will find that you have two hands: The first is for helping yourself, the second for helping others."

100.3 The Sound, R.I.P.
As forewarned for several months, 100.3 The Sound has finally been sold. And, as I wait for my next adventure to begin, I must thank you for your overwhelming response and encouragement! Until the good news breaks through, I'll keep working my way through the thousands of text, e-mail and Facebook messages you have sent... Rock On!