Joe Benson has hosted the nationally syndicated OFF THE RECORD program since 1998. Not only does Uncle Joe share his vast knowledge of classic rock artists and play their their best music, through his in-depth conversations with the artists, you'll hear many of their behind the scenes stories. Off The Record airs weekly on over 60 stations nationwide.
For more information, drop Joe a line!

This weekend of March 6/7, OFF THE RECORD with Joe Benson will feature The Best of 2020 and conversations withDoug 'Cosmo' Clifford of Creedence Clearwater Revival, Dennis De Young of Styx, Kansas, Eddie Van Halen and Rush's Neal Preston!

The weekend of February 20/21, over 70 affiliates featured the nationally syndicated OFF THE RECORD with Joe Benson featured conversation with Sammy Hagar and his new "Live 2020" LP !
Frequently Asked Questions
#1: How/where do I hear the show?
J.B.: If you can't find an affiliate within your listening range listed on this page, then check out a couple of stations that stream on the Internet — but check them out before OFF THE RECORD is supposed to air! If you can't get one station to stream through your computer, then go to another. But do it before the program is supposed to air!
#2: Are the listed air times for the show accurate?
J.B.: To the best of our knowledge, the listed times are when OFF THE RECORD airs on our affiliates. But to be 100% sure, you personally need to verify the information by calling the station (check with directory assistance or look under "Contacts" on their website for the phone number). Unfortunately, most 21st century radio stations are extremely short-staffed, so don't count on a timely reply to your last minute e-mail inquiry.
#3: Can I get/buy a copy of the show?
J.B.: No, copies of OFF THE RECORD are not available legally. Since its very beginning, the program has been produced solely for broadcast. And be assured that Westwood One's legal team aggressively pursues protection of its copyrights.
#4: Can you please forward/give/ask/tell...
J.B.: I have been dealing with artists on the air since 1968 and have been doing OFF THE RECORD since 1998. No matter what my personal relationships with individual artists entail, my professional relationship with each one does not include passing along personal messages/phone numbers/e-mail addresses/photos/items of clothing or food.
J.B.: I do want to thank my many guests for allowing us insight into their lives, and thank you for your support over the years! After all, it is all about the music!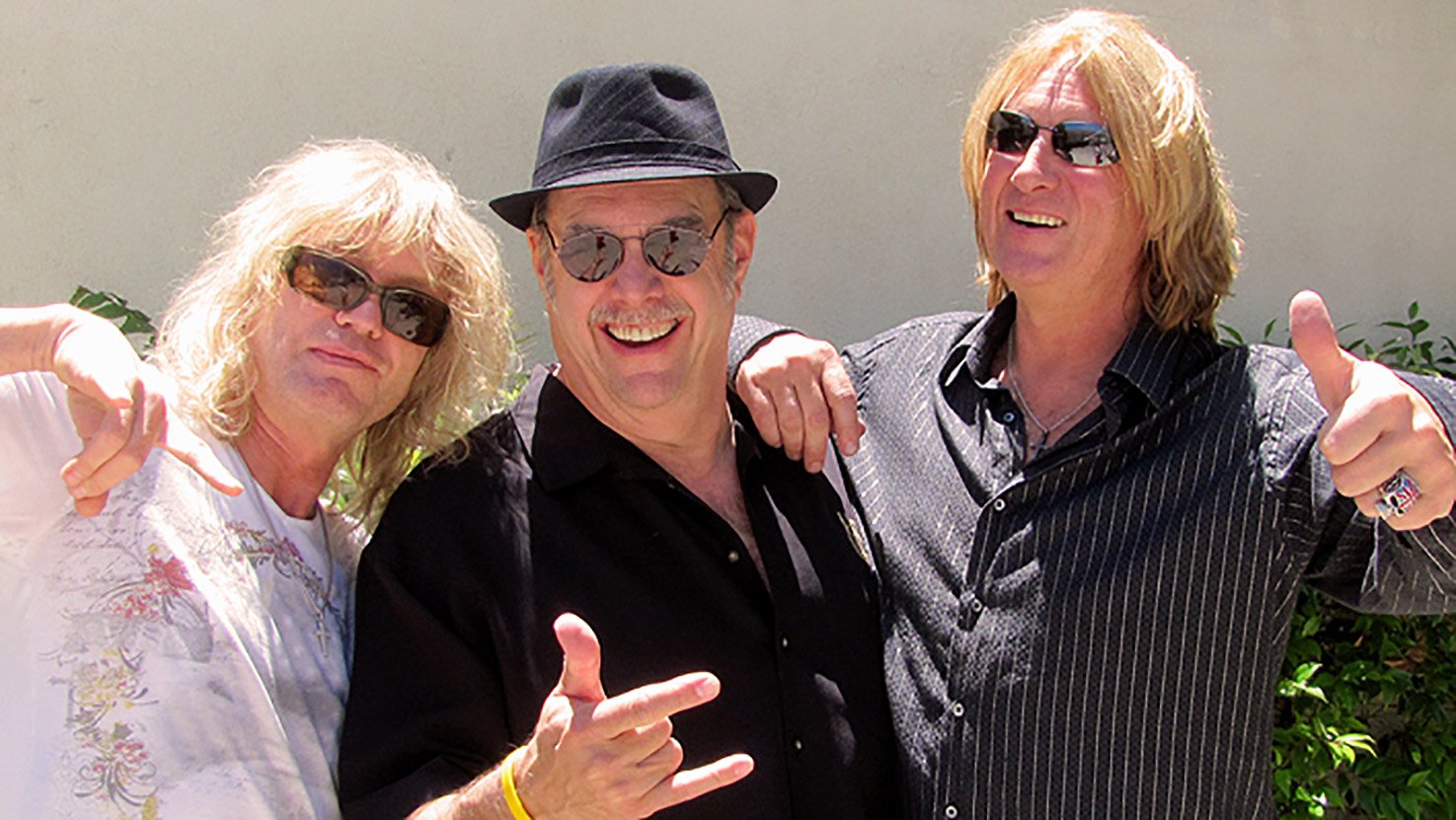 Having fun with Def Leppard bassist Rick Savage and frontman Joe Elliott.
Hanging with Beatles/Bowie/Supertramp producer Ken Scott on a sunny day.
Unc and Eagles mastermind Glenn Frey — the stories they could tell!
Steve Perry and J.B. in the studio.
Getting choked up with legendary drumming gods Carmine & Vinny Appice.
Talking rock & hot rods with Alice Cooper!
After catching up on Pink Floyd and fast cars, Nick Mason and J.B. shared a moment in the sun.
Chickenfoot hand signs — yeow! Michael Anthony and Joe Satriani signing with their Unc.
Striking a manly man pose with old friend George Thorogood.
One of these is not like the others: Unc with Andrew, Jon and Tim Farriss of INXS.
Sharing reading material and a laugh with Sammy Hagar.
Good times with Roger Hodgson and Supertramp producer Ken Scott. (Photo by TourBus Live)
Hanging with one of the greatest voices in all of Rock & Roll: Paul Rodgers of Free/Bad Company/Queen fame.
Catching a few rays with Geddy Lee of Rush.
More amazing stories were revealed! John McFee, J.B. & Tom Johnston of The Doobie Brothers.
Ann Wilson, Joe & Nancy Wilson of Heart.
J.B. interviewing Steve Miller before his Greek Theatre show.
J.B. and the legendary Metal God,
Rob Halford of Judas Priest.
Ladies and gentlemen, Peter Frampton and Joe Benson!
Gene Simmons & Paul Stanley show Unc how it's done.
Foreigner's Kelly Hanson & Mick Jones with J.B..
Hanging with the incredible Graham Nash.
Former Eagles guitarist Don Felder teaches Joe his personal guitar fingering technique.
Producer/engineer/photographer Eddie Kramer shares some signs with Unc.
Roger Daltrey of The Who
with one of his band's biggest fans.
Joe and producer Andy Johns momentarily interrupt the stories.
J.B. and John Fogerty had a blast talking about everything from the earliest days to John's great new album "Revival."
Rudolf Schenker, Matthias Jabs, Klaus Meine, James Kottak and Pawel Maciwoda of the Scorpions getting rowdy after a lengthy chat with Uncle Joe.
Ann Wilson of Heart and Joe had a blast talking about her new album.
Def Leppard guitarists Vivian Campbell and Phil Collen hanging out in J.B.'s garage.
Stevie Nicks and Joe's prom photo.
One of these is not like the rest: Jack Blades and
Tommy Shaw with their Unc.
After a lengthy chat with Paul Stanley about KISS and his new solo album, Unc considers going out on tour with him.
Unc and Police drummer/film maker Stewart Copeland celebrate the skills of Death Metal drummers.
Steve Miller and J.B. share the credit (or blame).
Def Leppard singer Joe Elliott and guitarist Vivian Campbell sandwich Unc after discussing Irish pubs and sea shanties.
Put famed Deep Purple singer Ian Gillan in a studio with famed Deep Purple fan Joe Benson and get ready for the stories to fly!
Just imagine two of the world's biggest Beatle fans hanging with the Fab Four's main recording engineer. As you can see, famed author Howard Massey, Uncle Joe and the legendary Geoff Emerick were ready to go for more!
Singer David Coverdale and J.B. had a blast digging into Deep Purple and Whitesnake stories.
After a couple of sessions with J.B., super drummer Kenny Aronoff finally demonstrated his signature bald & beautiful technique to keeping the groove!
Pink Floyd drummer Nick Mason joined J.B. for an exclusive, in-depth interview for OFF THE RECORD and a discussion of sports car racing adventures. Judging from the photo, it looks like they also practiced their kung fu moves!!
During Joe's extensive conversation with J.Y., Tommy Shaw and Lawrence Gowan of Styx about their new album "Big Bang Theory," Tommy snapped a photograph of three squirrels.
Doors drummer John Densmore and Unc had a blast doing an in-depth interview for OTR.
Queen's Roger Taylor and Brian May with J.B. during a rehearsal break.