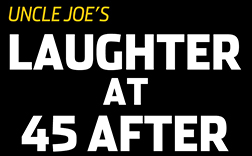 Joe Benson hosts the Uncle Joe's Laughter At 45 After
on 100.3 The Sound - KSWD, Los Angeles.





It was Charlie Chaplin who said: "A day without laughter is a day wasted."
It was Pablo Neruda who said: "Laughter is the language of the soul."
It was Victor Borge who said: "Laughter is the shortest distance between two people."
It was Kurt Vonnegut who said: "The telling of jokes is an art of its own, and it always rises from some emotional threat. The best jokes are dangerous, and dangerous because they are in some way truthful."
Monday 12/55555555555555/16
Wednesday 12/7/16
Friday 12/9/16

Hermosa Beach
10 Comics
Friday 12/9 - Saturday 12/10
Jay Leno
Sunday 12/11
Irvine
Orny Adams
Friday 12/9 - Sunday 12/11
Ontario
Paul Rodriguez
Friday 12/9 - Sunday 12/11
Oxnard
Harlan Williams
Thursday 12/8 - Sunday 12/11