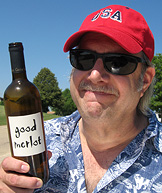 It's time for some R&R, so you can expect my
reports to be even more sporadic than usual this week!

May 26, 2017

Chanteuse Stevie Nicks is 69.

On this day in 1984, Bruce Springsteen's "Dancing In The Dark" entered the charts on its way to becoming his biggest hit single when it peaked at #2 for four weeks. Ironically, it was the last of 100+ songs... More »»


It was Steven Wright who asked: "Can vegetarians eat animal crackers?"
It was Baltasar Gracián who said: "Do not be a slave of first impressions."
It was Kin Hubbard who said: "There's no secret about success. Did you ever know a successful man who didn't tell you about it?"
It was Anthony Robbins who said: "Most people fail in life because they major in minor things"... More »»

This Sunday night at 8pm on 100.3 The Sound of Los Angeles, OFF THE RECORD with Joe Benson will feature the music of Pink Floyd and conversation with bassist/mastermind Roger Waters. Check out this preview!